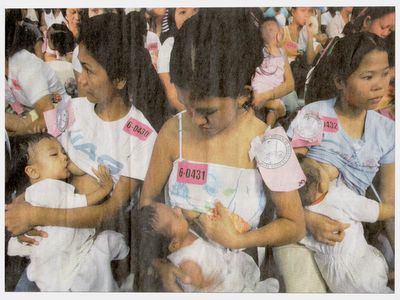 Found this in a local newspaper
"

Manila

Philippina mothers got togheter in a sportcomplex in Manila to promote breastfeeding. They all -more then 3500(? i miscut with my scissor dont know exact number)- got a number, to try to get in the Guinness Book of Records as "the biggest group of simultaniously breastfeeding moms"
lol and after your *.* posts
"biggest shoe"
and
"worlds biggest painting"
i was wondering is it coincidence or a hype in the Philippines? And is 'worlddominoday', very popular in The Netherlands, broadcasted there? We have the worldrecord look
here
. The new motto "Music in Motion" is the subject for 2006 pff i dont gonne watch that lol they even offered jobs for that brrr imagine all day putting up domino-stones waaaaah waaah lol i would get totally crazy.
btw did the moms above broke the world record?
*.*